ORLANDO TOUR

UPDATED AS OF TUESDAY APRIL 29 AT 11:00PM SASK TIME!
Thanks Mr. Zawerucha for keeping everyone updated with our daily activities...Congrats!...a job well done!
TUESDAY APRIL 29
OUR LAST DAY IN ORLANDO :(
It was off to Disney's Blizzard Beach today. The water rides were a hit with everybody and it was a great activity to end our tour of Orlando. After the beach, supper was at TGI Friday's. The first flight out of Orlando leaves at 7:35am Orlando time. The second flight leaves at 10:55am Orlando time. If all goes well, we should be arriving in Yorkton at 9:00pm. It has been a wonderful week of sharing new experiences and sights. Thanks to everyone who helped make this tour a great success! All students are to be at school on Thursday morning. See you in Yorkton!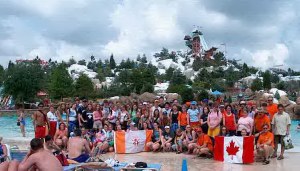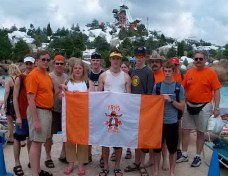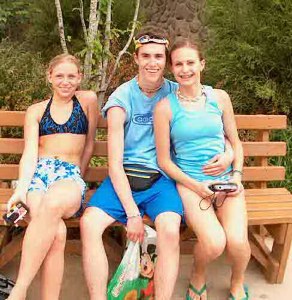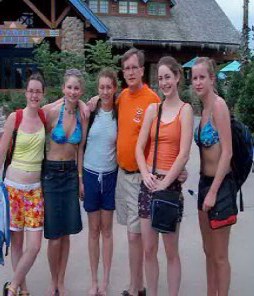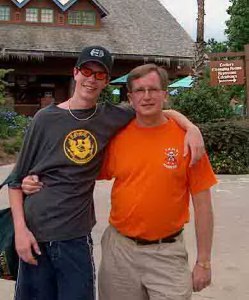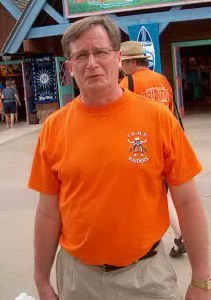 JORDAN AND MR. PEAREN SAD BECAUSE WE ARE LEAVING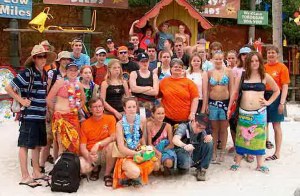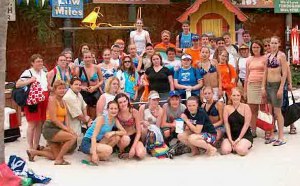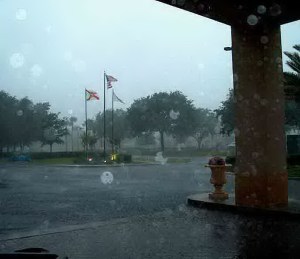 IT RAINED TODAY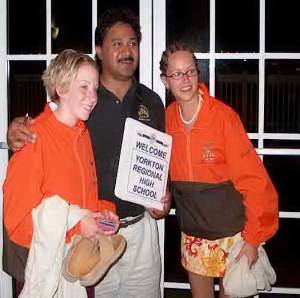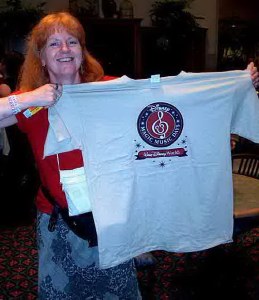 TALA OUR TOUR GUIDE OUR SHIRTS FOR THE RIDE HOME
MONDAY APRIL 28
MAGIC KINGDOM DAY!
Some people started their day with an 8:30AM swim in the pool. Others took advantage of the delicious breakfast that the hotel puts on every morning. Today's activity was back to Disney's Magic Kingdom. Students had a chance to get their souvenirs and catch the ride they couldn't get on last time. Instruments, uniforms, and equipment were boxed up for the flight home. One more day left in the hot Florida sun. The house in Sunday's pictures was from the TV show "The Golden Girls".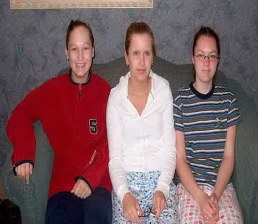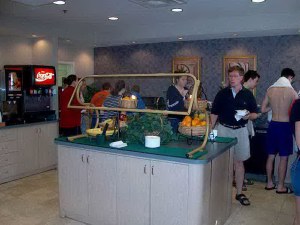 WAITING FOR BREAKFAST MR. PEAREN AT BREAKFAST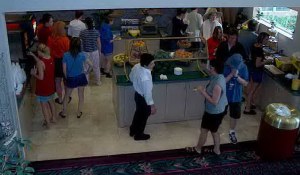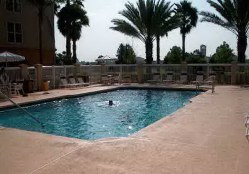 BREAKFAST TIME AT THE HOTEL THE HOTEL POOL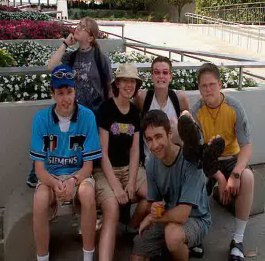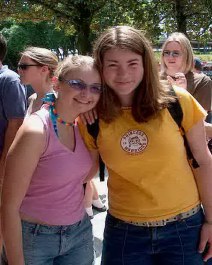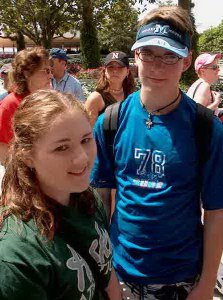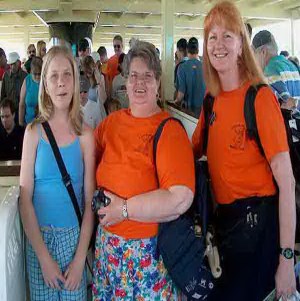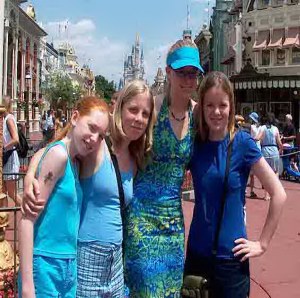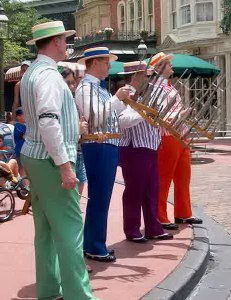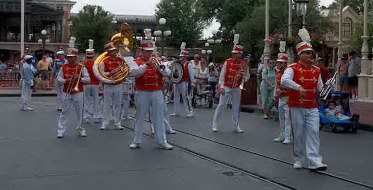 SUNDAY APRIL 27
HELLO FROM DISNEY'S MGM STUDIOS
We all found out today that Yorkton had 4 inches of snow. The weather in Orlando today was clear, calm winds, and a beautiful 28C. We headed for Disney's MGM Studios at 10:00am. Today's top attractions were the Aerosmith Rockin Roller Coaster, Tower of Terror, and Disney's Fantasmic. Disney's Fantasmic ended our night at MGM with sorcerer Mickey battling Disney villains in a spectacular show of lasers, lights, dancing fountains, and dazzling special effects. We were back at the hotel 10:00PM Florida time. We started to pack instruments and equipment for our journey back home. Tomorrow's activities include Disney's Magic Kingdom and more packing for our trip home. Thanks for checking our web site out! Please let everyone know about it!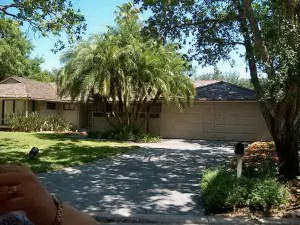 GUESS WHO'S HOUSE THIS IS.......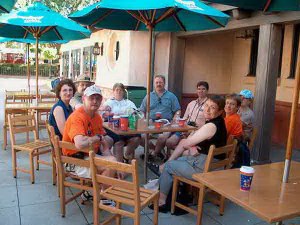 COFFEE BREAK.........................AGAIN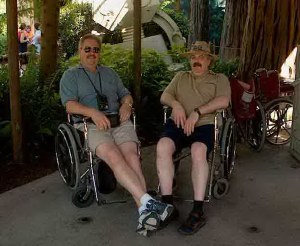 A NEW SET OF WHEELS FOR THE CHAPERONES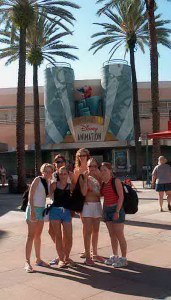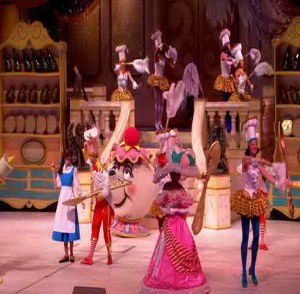 GROUP PIC BEAUTY AND THE BEAST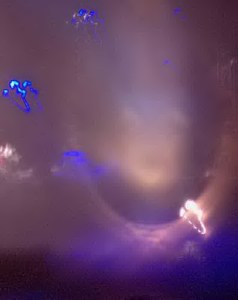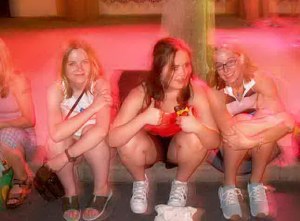 FANTASMIC SHOW HANGING OUT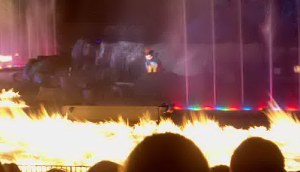 FANTASMIC SHOW (THE WATER IS ON FIRE!)
SATURDAY APRIL 26
CONCERT CHOIR AND MARCHING BAND PERFORM AT UNIVERSAL STUDIOS!!
Saturday started off with a marching band performance at Universal Studios at 9:30AM. The staff at Universal were wonderful to us and the crowds danced to all of the marching band songs. The choir performed at Hard Rock Live at 2:30PM and did an excellent job as usual. After the choir performance it was off to Universal Studios theme parks for the rest of the day. The Mardi Gras parade at 10:00PM was a hit with the group. The evening ended with an awards ceremony for the music festival. The Choir recieved second place in their class with a superior rating. The Concert Band recieved third place in their class with a superior rating. It was a long day and Sunday we will get to sleep in.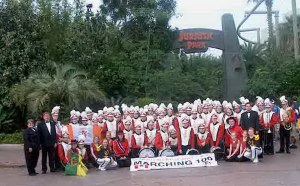 PERFORMANCE AT UNIVERSAL STUDIOS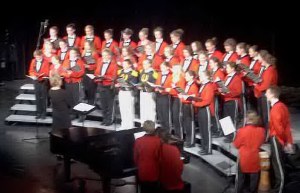 CHOIR PERFORMS AT HARD ROCK LIVE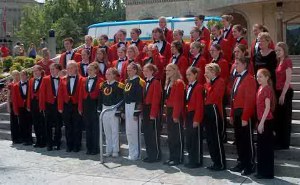 GROUP PHOTO FOR CHOIR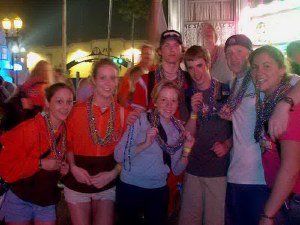 MARDI GRAS PARADE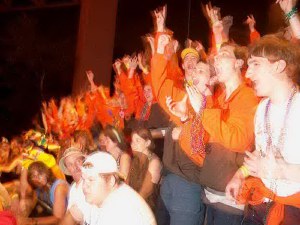 CHEERING AT THE AWARDS CEREMONY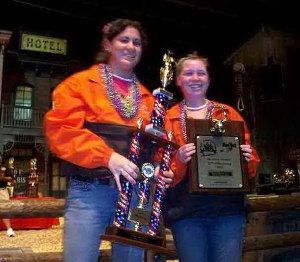 AWARDS FOR CONCERT CHOIR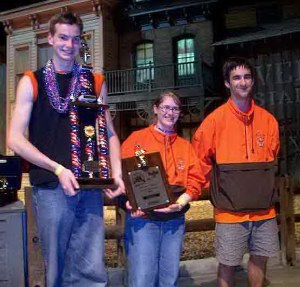 AWARDS FOR CONCERT BAND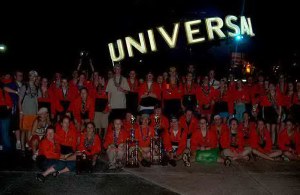 UNIVERSAL STUDIOS NIGHT SHOT
FRIDAY APRIL 25
CONCERT BAND PLAYS AT THE ALL AMERICAN MUSIC FESTIVAL!
Today started off with a wake up call at 4:30am for our 7:00am picture at Disney's Magic Kingdom in front of the castle. After our picture it was back to the hotel for breakfast and a quick nap. At 9:30am we were off to HARD ROCK LIVE for our concert band performance. The festival performance started off with a warm up rehearsal in the BEATLES ROOM. Students then moved to the main stage at Hard Rock Live for their performance. The students played very well and made us extremely proud of them. After our performance everyone went to Universal Studios Islands Of Adventure. The popular rides of the day were "Jurassic Park", "Spider Man", and "Popeye River Raft". It started to rain at 5:00PM which made less waiting time for rides. Some of us had the chance to ride the same ride up to three times in a row! We were back at the hotel by 9:00PM. Tomorrow the choir and marching band perform!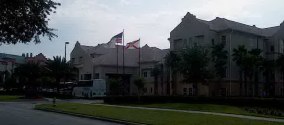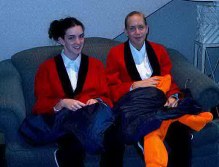 HOMEWOOD SUITES BY HILTON WAITING FOR THE BUS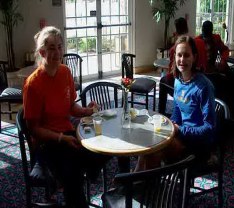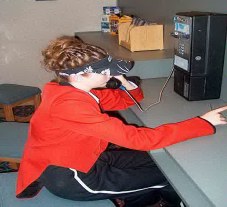 BREAKFAST CALLING HOME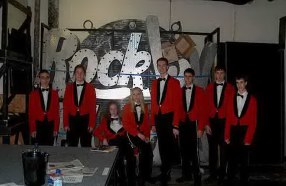 PERCUSSION BACKSTAGE AT HARD ROCK LIVE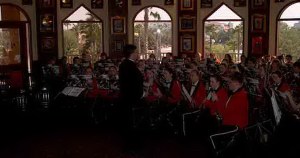 WARM UP BEFORE PERFORMANCE

PERFORMANCE ON STAGE AT HARD ROCK LIVE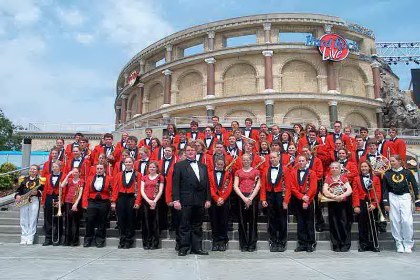 GROUP PICTURE IN FRONT OF HARD ROCK LIVE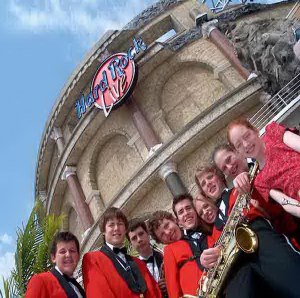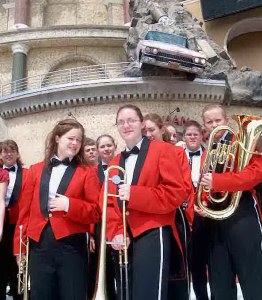 GROUP PICTURE MORE GROUP PICTURES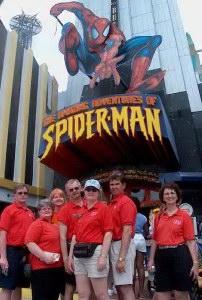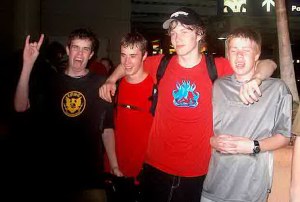 CHAPERONE PICTURE THE END OF A GREAT DAY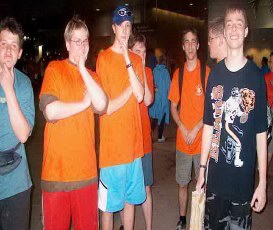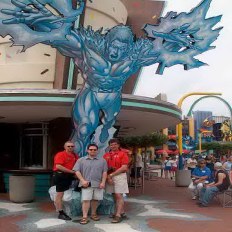 HMMMMM THE THREE AMIGOS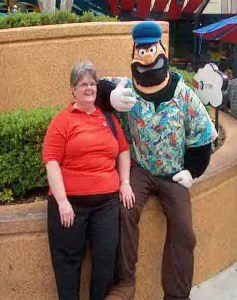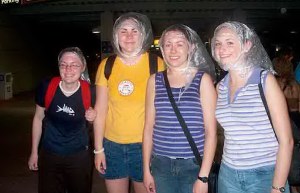 MRS. G FINDS A FRIEND SINGING IN THE RAIN....WITH A SMILE ON THEIR FACES
THURSDAY APRIL 24
HAVING A GREAT TIME! WISH YOU WERE HERE!
HELLO FROM KENNEDY SPACE CENTER AND COCOA BEACH! Thursday started with a delicious breakfast at our hotel. We then drove out to Kennedy Space Center. The students and chaperones found it very interesting. We arrived at Cocoa Beach at around 1:00PM. All students found RON JON'S SURF SHOP to be a great place to do some shopping. Everyone made it to the beach for some swimming and sun tanning. At 5:00PM we had a bar-b-q by the beach which was another hit with the students. We arrived back at the hotel at around 8:00PM Florida time. Tomorrow is going to be an early day so lights out at 11:00PM!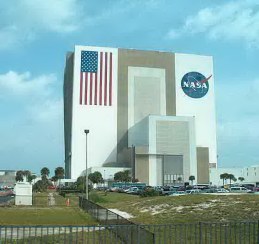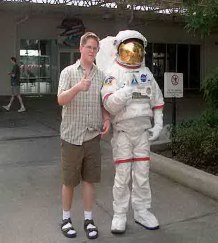 THE VEHICLE ASSEMBLY BUILDING AT NASA MEETING AN ASTRONAUT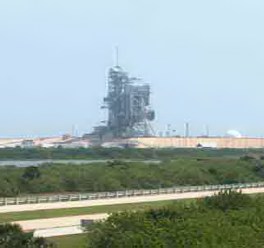 LAUNCH PAD FOR THE SPACE SHUTTLE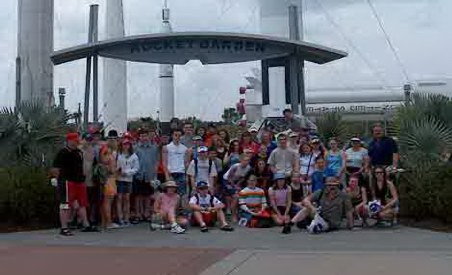 GROUP PHOTO TIME AGAIN!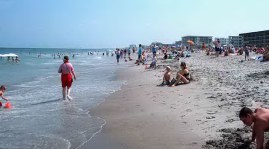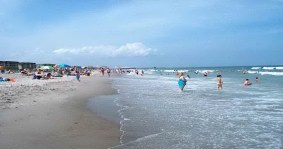 COCOA BEACH PICTURES!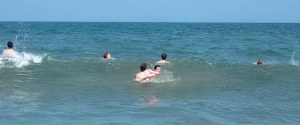 SOME STUDENTS ENJOYING THE WATER!
WEDNESDAY APRIL 23
HELLO FROM DISNEY'S EPCOT! Our day started out with a practice in our hotel parking lot at 8:00AM. We then boarded the buses and headed to Disney's Epcot Park. Students had the opportunity to go on various rides, visit different ethnic pavilions, and sample the great food. Our first performance of our tour started at 6:30PM on Disney's Boardwalk Resort. The band played very well in the hot Florida sun. The evening ended with a fabulous fireworks show in the middle of Epcot Park. We are now moved into our new hotel where we will stay for the rest of the tour.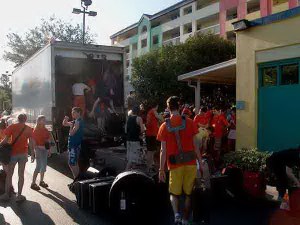 GETTING READY FOR PRACTICE AT 8:00AM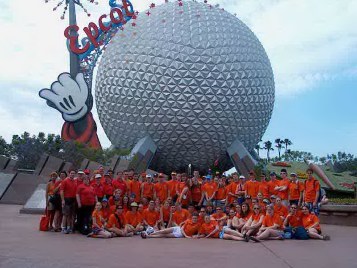 GROUP PICTURE AT EPCOT!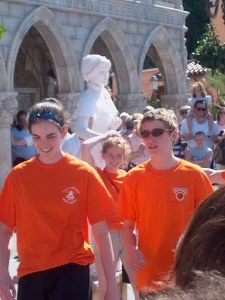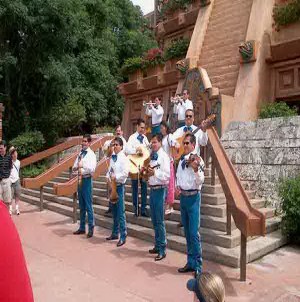 BETHANY GETS ATTACKED BY A STATUE A MEXICAN BAND IN THE MEXICAN PAVILION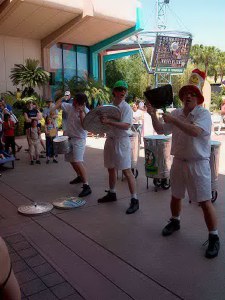 PRACTICE BEFORE DISNEY PERFORMANCE THE JAMMITORS PERFORM FOR US!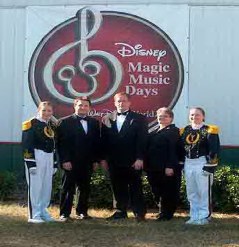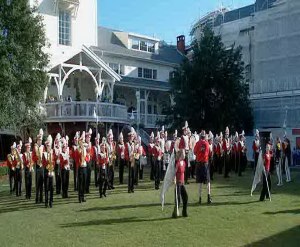 GROUP PHOTO TIME AGAIN! PERFORMANCE AT DISNEY'S BOARDWALK!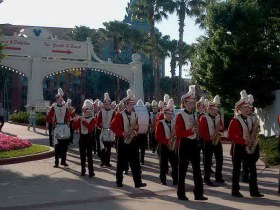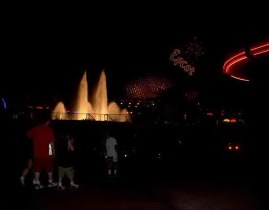 MARCHING AT DISNEY! EPCOT AT NIGHT!
TUESDAY APRIL 22
HELLO AGAIN FROM ORLANDO! The second flight finally made it to Orlando this morning at Midnight. By the time they received their luggage and made it to the hotel, it was well past 1:00am. We decided to move the Disney World departure to 9:45am. This gave everyone a chance to get a bit more sleep. Everyone had a great time at Disney World taking in the sights, musical performances, and rides. Since a lot of us did not get much sleep, we decided to leave Disney at 6:45PM and travel back to the hotel for supper. After supper, we will get our instruments unpacked for a quick rehearsal for tomorrows performance at Disney! The following are some pictures of the day. Please check back tomorrow evening after 10:00pm Saskatchewan time for an update on Wednesday's activities.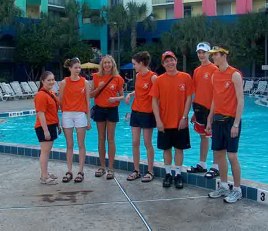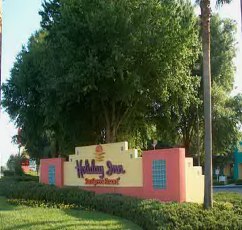 STUDENTS BY HOTEL POOL EVERYTHING IS SO GREEN!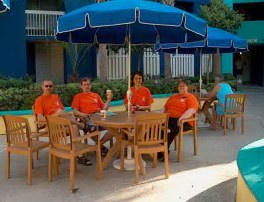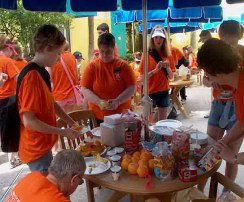 BREAKFAST AT 8:00AM BY THE POOL!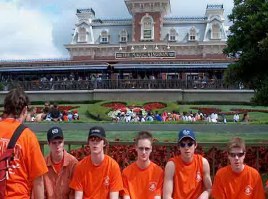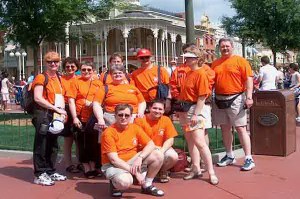 ENTRANCE TO DISNEY CHAPERONES AND DIRECTORS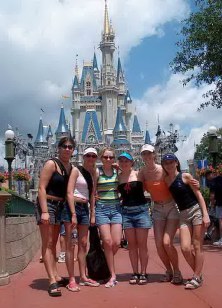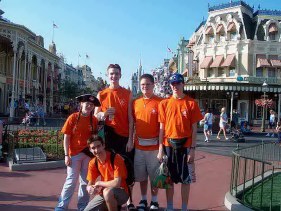 MORE GROUP PICS!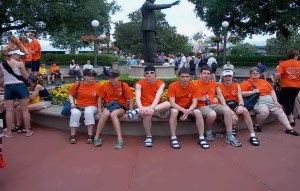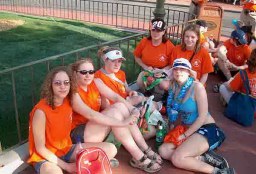 TAKING A BREAK FROM THE 32C SUN!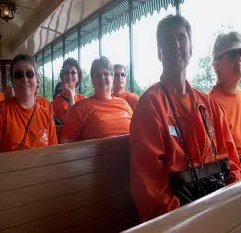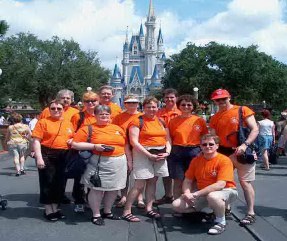 CHAPERONE'S FIRST RIDE AND A PICTURE IN FRONT OF THE CASTLE
MONDAY APRIL 21
HELLO FROM ORLANDO! The first group arrived in Orlando at 5:45PM (3:45 SASK TIME). The second group is scheduled to arrive in Orlando at 11:45PM (9:45 SASK TIME). Everybody is in good health and excited to see the sights of Orlando. The airline misplaced one snare drum and two pieces of luggage on the first flight but were able to find them and ship it with the second group. As of 10:00PM Orlando time, students and chaperones were enjoying the beautiful pool outside our hotel. Please watch for pictures of the hotel in tomorrow's posting. Today's temperature was 82F or 28C. Tomorrow's activity is Disney World. Pictures will be posted after 11PM Saskatchewan time of Tuesday's activities. Here are a few pictures of the past two days.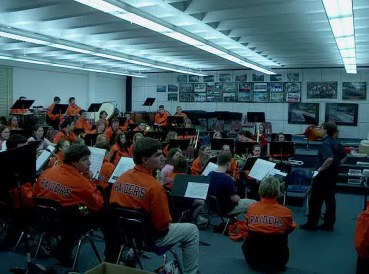 PRACTICE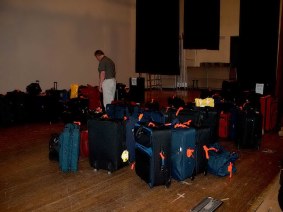 MR. KELLY AND THE LUGGAGE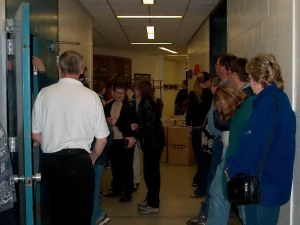 PARENTS WAITING TO SAY GOOD BYE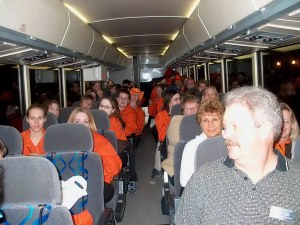 BUS #2 AT 11:30PM SUNDAY NIGHT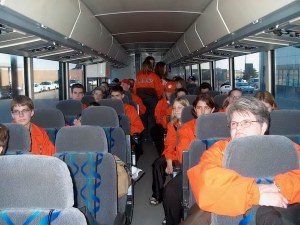 BUS #1 AT 6:30AM MONDAY MORNING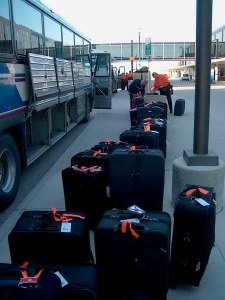 MORE LUGGAGE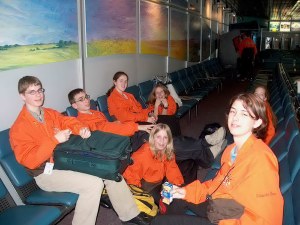 WAITING AT WINNIPEG AIRPORT